Bring your family closer together and lead your children closer to God with the power of music!
Provide your child with all the benefits of a music and movement class at home for a fraction of the cost.
Build your child's future music reading skills with our beautifully illustrated full-color Children's eBooks which can be viewed by any pdf compatable reader, or computer. Interactive options allow children to play music while viewing each song. (Not all devices will support this function.) All books are printable as well.
Become a musical model and teacher to your little ones with our full-color, easy-to-follow, cross-indexed, 273-page PDF Parent Manual. PDF are equipped with click-and-go cross-references. Print what you want, upload to various devices within a household, and enjoy on any reader or computer that supports PDF.
Integrate faith into your child's life more deeply than you ever imagined with our faith integrated curriculum which follows the seasons of the Liturgical Year.
Use with the whole family! Recommended for ages 0-8 but big kids love to help!
Preview the CD-ROM eBooks below. Click on a book to see a sample of the corresponding PDF. Adobe Reader required.

Developed by Homeschooling Parents & Music Educators

The Making Music Praying Twice Program was developed by homeschooling parents, so the Manual is written from experience and expressly for the home, outlining techniques for families of various ages and sizes. Even if you aren't a "homeschooler", this program allows you to do real early childhood music education at home, preparing children for future formal music studies and developing a lifetime love of music and prayer.
95-Song Curriculum Based on the Liturgical Year

Throughout the school year, your family will explore seasonal curricula based on the Church calendar: Ordinary Time – Fall, Advent – Christmas – Epiphany, Ordinary Time – Winter, Lent, and Easter – Pentecost.
With a customized full-color songbook for each season, sized for little hands, you'll introduce your child to written music just as we introduce them to reading with storybooks. Each season features a CD with natural, organic styles and a variety of voices of adults and children. Our books feature a variety of professional and child art to provide a similar "variety of voices". Our online kids activities and downloads coordinate with the seasonal curriculum for further support. The Manual provides parents with the guidance and tools necessary to give children more than entertainment – but music education.
Lead Fun and Developmentally Appropriate Classes for Your Child with Our 273-page DIGITAL Family Edition Manual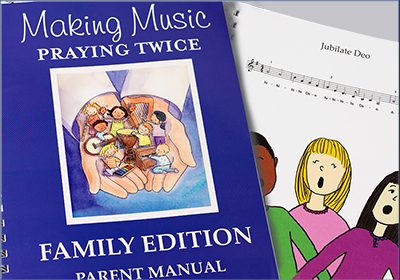 This full-color, printable, and computer-friendly, comprehensive PDF manual is cross-referenced and organized for ease of use. When using on your computer, enjoy simple click-and-go cross-references. Designed to be adaptive for busy and varied families, take as much or little direction as you need. Includes:
Information about early childhood music development research
Tools to assess your family's musical environment and your child's developmental level.
Guidance in creating yearly and seasonal goals with unstructured and structured plans for your child's music education.
Lesson planning guide along with fully developed lesson plans for your use.
Full explanation of the activities and methods of music and movement classes and pedagogy.
Complete music for the 95-song curriculum with accompaniment chords and notes on teaching methods, casual use in the home, and following your child's musical growth.
CD recommendations for further enhancing your music collection to the benefit of your children.
Complete with Glossary, Index, and extensive Click-and-go cross-referencing.
What's on Our CDs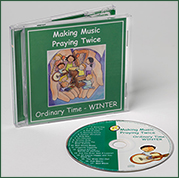 Our CDs feature natural, acoustic, but highly professional music designed to encourage participation of parents and children. Voices of men, women, teens and children help your child grow in receptive and discernment skills. The music of various cultures are represented traditionally alongside simple a cappella pieces and more complicated vocal and instrumental folk ensembles. All choices reflect a deep educational purpose, but also provide an enjoyable, charming listening experience for the whole family. The song choices include:
Prayers, Hymns, Gregorian Chant
Folk Music from around the World
Original Music
Spoken Rhymes for Rhythm Development
Medieval Music
Traditional Children's Songs
Finger Plays and Games
Balanced variety of Tonalities and meters
Foreign Language and Latin
Listen to what the Experts are Saying!

"Wonderful Program!" – Lisa Hendy of catholicmom.com
"We love the program. It is delightful in that families can add music education easily and enjoyably as well as the added Catholic elements too!" – Paola Ciskanik of Emmanuel Books
"I am absolutely thrilled. I love, love, love the Catholic content and the following of the liturgical year. I love the ethnic music and exposure to different tonalities and instruments. I love the well laid out plans…" – Michelle Grunkemeyer from catholichomeschool.org
…and a Few Comments from Our Satisfied Parents

"My three children LOVE this so much. This is now how we begin our day. Thank you." – Alison U.
"I love these CDs. The music is as diverse and entertaining as it is edifying." – Margaret in MN
"Using this curriculum everyday. My four children LOVE it!! Thanks!" – Angie L.
The Making Music Praying Twice DIGITAL Family Edition $84.95