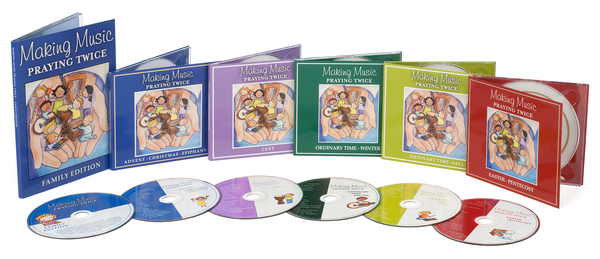 Includes all 5 pictured CDs and 1 CD-ROM with printable PDFs of the Parent Manual, Children's Songbooks, plus special PDF songbooks that let children play the music on each page when viewing on the computer.

MISSION STATEMENT: Music is a pathway to God.

Making Music Praying Twice provides that path by bringing children and parents together on the wings of music. Our program of music and movement designed to foster the Catholic faith and to enrich education and family life, pursues a profound goal: While the gift of music education is invaluable, the gift of music combined with prayer is immeasurable.
In a secular world often devoid of faith and of family togetherness, Making Music Praying Twice provides a genuine faith-based experience that is rare, enriching, educational, transcendental and beautiful.
The Benefits of the Making Music Praying Twice Family Edition:

Bring your family closer together and lead your children closer to God with the power of music!
Provide your child with all the benefits of a music and movement class at home for a fraction of the cost.
Build your child's future music reading skills with our beautifully illustrated full-color Children's eBooks which can be viewed by any pdf compatable reader, or computer. Interactive options allow children to play music while viewing each song. (Not all devices will support this function.) All books are printable as well.
Become a musical model and teacher to your little ones with our full-color, easy-to-follow, cross-indexed, 273-page PDF Parent Manual. PDF are equipped with click-and-go cross-references. Print what you want, upload to various devices within a household, and enjoy on any reader or computer that supports PDF.
Integrate faith into your child's life more deeply than you ever imagined with our faith integrated curriculum which follows the seasons of the Liturgical Year.
Use with the whole family! Recommended for ages 0-8 but big kids love to help!